This article covers basic installation for Windows, Mac and Linux.
1. Download the software. Visit www.virtue.poker and click on the download link - the system will auto-detect which system you are using and download the appropriate files. If you already have the software installed, simply login and the system will auto-update.
2. Run the installer. The installer will fully install without asking for any permission. Permissions will be added at a later date.
3. Start the signup process. Once the Virtue Poker client installation has been completed, launch the client and click the Sign-Up button.
4. Enter your email address.
5. Create a password for your account. Note the minimum password requirements.
6. Enter your personal information. This information will be validated before you receive any prizes, so please make sure it's correct.
7. Create your display name. The display name is the name that other players will see when you are seated at a table. You must agree to the Terms & Conditions and Privacy Policy by checking the checkbox. Click on the links to review the policies prior to continuing.
8. Verify your email address. You will receive a verification email from us within a few minutes. Copy the verification code from the email and enter it in the appropriate field.
You have now created your account – sign in to complete registration. The remaining steps may be completed at a later date but will need to be completed prior to playing on Virtue Poker.
9. Link your wallet. This section connects your external source of funds (Ethereum wallet) and determines options for storing your recovery phrase.
10. Link Your Wallet. If you have a wallet that is NOT on an exchange (ex. Coinbase, Exodus, Kraken, etc) please first confirm that your wallet allows the use of ERC-20 tokens. We use these tokens to handle our VPPs (Virtue Poker Points), which will be available in future for play. If you don't have a wallet or need a new one please click "No, let's create one" button.
If you do have a wallet please click "I already have a wallet" to continue.
For a walkthrough of creating a new wallet using Metamask click here.
Copy and paste your ETH wallet address and click the Next button.
11. Managing your funds. You have two options for dealing with the funds in your account.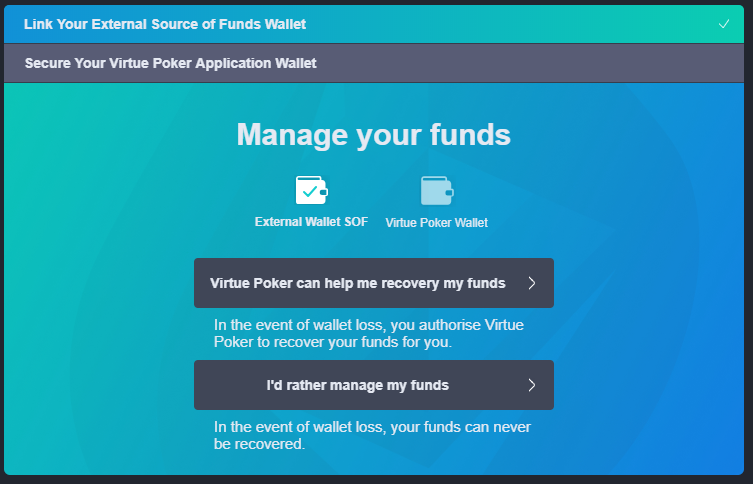 - Virtue Poker can help me recover my funds: If you are unfamiliar with cryptocurrency you may want to select this option. We have an explanation of the critical nature of the recovery phrase and your account safety here. Selecting this option allows Virtue Poker to assist you with wallet recovery if you lose access to your wallet. An example of losing your wallet is: You haven't securely backed up your recovery phrase and your computer crashes. In this example, you have lost access to your wallet - and all of the funds are within your wallet forever.
- I'd rather manage my funds: If you are experienced with cryptocurrency and the importance of recovery phrases (also known as passphrase or seed phrase) feel free to select this option. You acknowledge that if you do not securely store your recovery phrase and lose access to your wallet, your stored funds are gone forever.
Once you have selected the option that best suits your needs and confirm you're done.
Success! The client shows notification of completion. You can now transfer funds between your external Source of Funds and Virtue Poker.