We have contracted with Fractal, experts in customer identity, verification and fraud investigation. In order to make a deposit or withdraw you must first confirm your identity. The below details will walk you through completing KYC (Know Your Customer).
1. To begin click on the Cashier at the top right of the main lobby.
2. Click on any of the withdraw options available (Withdraw ETH, Withdraw VPP, etc).
3. An ID verification window will appear. Click on Start ID verification.
Note: Politically Exposed Person means one who has been entrusted with a prominent public function. A PEP generally presents a higher risk for potential involvement in bribery and corruption by virtue of their position and the influence that they may hold. Politically Exposed Persons are not permitted to play on Virtue Poker. Please ONLY click the checkmark if you fall into this category of person.
4. A browser window will open with opening instructions to complete KYC. Enter your registered email address, Tick the box & Click on Continue.
5. You will receive an email on the address mentioned above.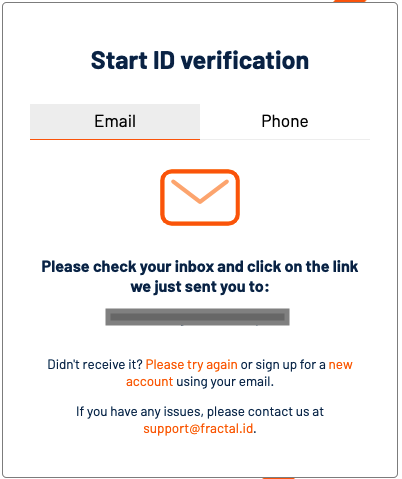 6. Open the email and click on (Sign in to Fractal ID) to start document submission.
7. Agree to the mentioned policies.
8. Click on "Allow"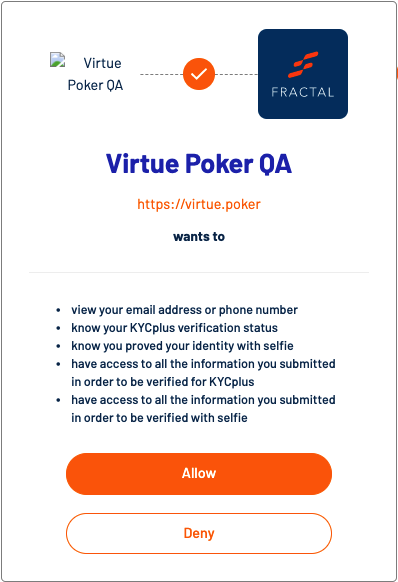 9. Select the type accordingly.
10. The proof of address from Fractal should match the proof of address that is provided at the time of registration. A close match will enable faster processing of your KYC documents.
11. Select the Country of Residence from the drop-down
12. Read the requirements and attach your valid Proof of Address document. Click on "Proof of Address"
13. Select the type of National Identification Document from the list you want to upload
14. Upload both Front and Back of the ID document
15. Once the document is uploaded, click on "Verify my document"
16. Mention the details requested and click on "Next".
17. Upload a Selfie with your Uploaded National ID. Click on "Selfie with National ID"
18. You will receive a confirmation about your data being received and will be reviewed soon. And once you click on the "Virtue Poker" button it'd take you to our website.
19. Until the review is on, you shall receive below-mentioned pop on the Virtue Gaming application
20. Once the KYC is Accepted, you shall receive an email notifying you about the same.
If you run into issues completing KYC, please contact support@virtue.poker and we'll assist you.
Note: KYC processing is available Monday through Friday between the hours of 14:00 to 00:00 UTC (Universal Coordinated Time) . Reviews will be completed as quickly as possible and results should be expected in 24 hours or less.